Captivate Your Family And Friends With These Magical Chimes!

Are you looking for a way to brighten up and enchant your patio?

Light up your patio with colors and chimes and enchant your front door with these captivating Butterfly Lights!

These remarkable solar powered chimes will keep themselves charged during the day and magically come to life at night!

Each solar-powered chime is fully waterproof making it the ideal intricate lighting solution for both indoors and outdoors!

It's a unique magical treat that will surely enchant your home!

Add a little magic into your home and captivate your family and friends with these remarkable Butterfly Lights!

Durable, Waterproof, And Energy Efficient!
Durable, waterproof, and energy-efficient!

Product Specifications:

Power Supply: Solar-Powered

Size: About 5"L x 5"W x 26"H

Battery: 1 x AA, 1.2V/600mAh

Package Includes:

1x Solar Powered Butterly Lights
1x Spinning Hanging Hook

It's the perfect magical decorative light for your home!

Brighten up your garden, patio, or front porch with the highly efficient and energy-saving Butterfly Lights!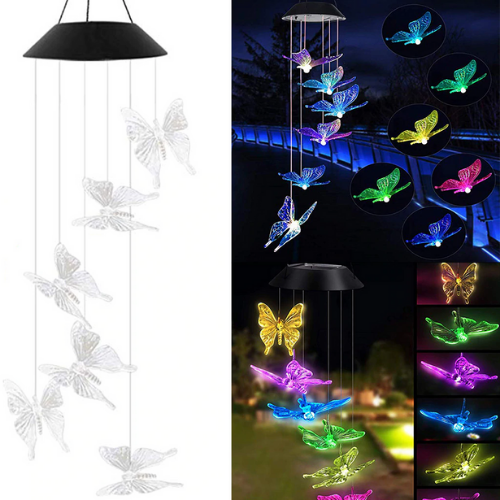 Each Bulb Can Last Up To 100,000 Hours!
Each LED bulb can last up to 100,000 hours!

This amazing chime is built with premium quality LED lights giving it long-lasting lighting performance that can last up to 100,000 hours!

This unique solar light automatically charges during the day and instantly lights up that magical glow at night!

It uses a highly sensitive monocrystalline solar panel that will automatically recharge the chime even in minimal lighting conditions!

It's a magical treat for you and your kids!

Bask in the relaxing glow and decorate your home with these magical Butterfly Lights now!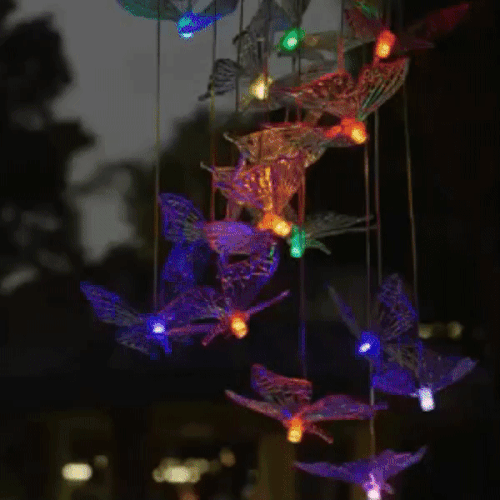 3 Buying Options, The More You Buy, The More You Save!
BUY 2 GET 1 FREE (2nd Option Below!)